Happy Friday!
Welcome to One Creative Weekend #19.
It's been a super busy week at my house.  It must be holiday season!  One of these days, I hope to dig out the house and catch up a little!  (I hope I'm not the only one who can't keep up!  Not that I hope you can't keep up!!!  It would just be nice to know that I'm not alone in my scatterbrained disaster!)  Here's what I've been up to this week:
My Latest Videos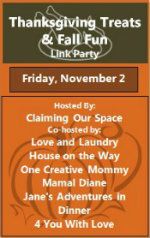 While you're here for this party, be sure to visit the huge  Thanksgiving Treats and Fall Fun Linky Party!  It will remain open until Thursday, November 15th.  I and the six other hosts will share our features next Friday.  Don't forget– The party is co-hosted by seven sites, and every post you link up will automatically show up on all seven sites!  (I wish I could always link up to that many sites at once!  What a time saver!)
Now it's your turn.  Show blog land what you've been up to this week!