Because the Thanksgiving Treats and Fall Fun Linky Party will be open one more week, I've chosen to feature projects from my Felt Food Roundup.  This post is long overdue!  I'm so sorry for neglecting all of the fantastic crafters that have linked to the party so far.  (My felt food roundup party is always open, and includes food and non-food felt projects.)
If you are interested in hand-made gifts for Christmas this year, the Felt Roundup is a great place to start.  The felt food is always a hit with kids at Christmastime.  (At least it is at my house!)
Felt Sweet Treats and Desserts
Swiss Rolls are one of my favorite treats (have you ever tried them frozen?), and Toastie Studio managed to make these Swiss Mini Rolls look just like the real thing!  I'm glad I don't have to worry about the chocolate peeling off of these and melting all over the kids and the house!
Aren't these Felt Sugar Cookies by Make it Cozee adorable?  I love the sprinkles and the peek-a-boo hearts.
Felt Breakfast Foods
I'm the only entry so far in this category, so if you have any fun felt breakfast foods, be sure to link them up.  Check out my Felt Pancakes and French Toast Tutorial (with free pattern).
Felt Fruits and Vegetables
While Wearing Heels contributed so many great projects that I couldn't only choose one.
Visit her site for tons of great felt tutorials, free patterns, and ideas.  I'm linking you to her I Heart Fake Food page.
Bear Rabbit Bear shared this adorable Felt Burlap Sack with Potatoes.  Don't those potatoes look soft?
(Depending on their size, they could also double as chicken nuggets in a pinch.  My kids turn everything into chicken nuggets!)
Naptime Creations linked to a page full of great felt projects.  My favorite has to be the banana that comes out of it's peel.  So fun!
(Her projects are all created from purchased patterns.  They'll give you a good idea of some of the great patterns available on Etsy.)
Felt Main Dishes and Meals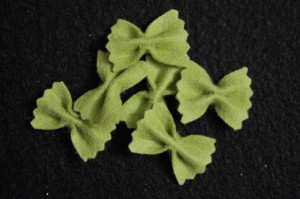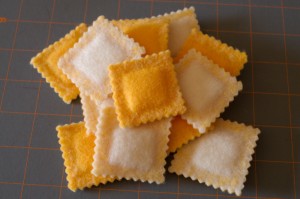 I love this Felt Farfalle and Felted Ravioli by One Inch World. Doesn't it look just like the real thing?
In the mood for Pizza?  Try this felt tutorial from Toastie Studio.  I bet you could make slices with all sorts of different toppings for a fun Pizzeria Play set.
(Hmmm.  Maybe I just got an idea for Christmas!)
Non-Food Felt Projects
Finger puppets  and hair bows seem to be my favorite theme today for this category.
Felt Headbands by Make it Cozee
Felt Headbands by Glamorous, Affordable Life
 Handmade Felt Finger Puppets by Small Things With Love
Princess Finger Puppets by Being Inspired
(I'm actually linking you to the newer version of this project so that you can how she creatively packaged her creations as a gift.  Promise.  You'll love it!)
If you were featured, be sure to grab this featured button and post it proudly!  You deserve it!
I was featured at the Felt Food Roundup at OneCreativeMommy.com
Do you have felt ideas to share?  Be sure to link them up.  The felt party is meant to be a tutorial resource, and is always open!  I'll share new features periodically.
Are you feeling inspired yet?  You can find the rest of my felt creations by clicking on the images below.