Welcome to another edition of Gluten Free Monday!  Today I'm sharing a quick and easy, kid-friendly family favorite:  Chicken Caruso.  I've been eating this meal since I was a kid, and now my kids love it, too.  My favorite thing about this recipe?  When the kids hear what's for dinner, they say, "Yea!" instead of, "But I don't like that!"
Hopefully the recipe will make mealtime more pleasant at your house too!  It's quick, easy, and can be made with leftovers.  (The best part for a mom with a celiac kiddo?  The only ingredient needed to make it gluten free is gluten-free pasta.)
Chicken Caruso
1-1 1/2 c macaroni (I used Heartland Gluten Free Fusili Pasta, but any pasta will work)
1 small onion (chopped)
1 c shredded cheddar cheese
6-8 slices of bacon--regular or turkey (cooked and crumbled)
1-2 c cooked cubed chicken (leftover rotisserie chicken works great)
1 c (or more) cooked peas
salt and pepper to taste
Cook and drain pasta according to package directions.  While pasta is cooking, cook peas and fry bacon and onion together.  (Turkey bacon cooks much more slowly than onions.  If you use turkey bacon, cook the bacon partially before adding the onions.)  Drain grease and return to pan.  Add cooked macaroni and remaining ingredients.  Salt and pepper to taste.  Mix well, and reheat if necessary.
Enjoy!
Before we get on with the party, have you seen some of my other yummy gluten free recipes?  The images below are linked:
Now it's time for Gluten Free Monday!  But, before we start this week's party, here are a few of my favorites from last week: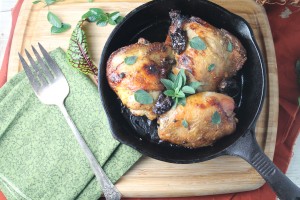 Paleo Chicken Marbella (Healthified) from Tessa, The Domestic Diva
Grind Your Own Flours from A Life Unprocessed

Garlic Mashed Potatoes from Natural and Free
Bangers and Mash with Spicy Peppers by Mai Treat!  (Bangers are turkey sausages.)
Now it's your turn.



While you're here, be sure to check out One Creative Weekend, your one stop spot for family-friendly crafts, decorating, DIY and recipes.
I link my gluten-free posts to these awesome parties:  Simply Sugar & Gluten Free (Slightly Indulgent Tuesdays), Gluten Free Homemaker (Gluten-Free Wednesday), The Tasty Alternative (Allergy-Free Wednesday), Vegetarian Momma (Gluten-Free Friday), Gluten Free R.D. (Gluten-Free Fridays)
Click here to see the other fantastic sites I like to link up with each week.
My recipe was featured here: