I don't usually post on Saturdays, but I have another great giveaway for you.  Did you know that honey is a fantastic food to add to your emergency food supply?  Today I'm sharing 5 reasons you should store honey, and I'm teaming up with Food Storage Moms to give one lucky reader a chance to win 30 lbs of delicious Cox's honey!
5 Surprising Reasons to Store Honey
#1 Honey Never Goes Bad!
Did you know that honey never spoils?  You can store it indefinitely.  It will get cloudy over time and crystallize a bit, but you can still use it as a sweetener or for medicinal purposes.
#2 Honey is a Natural Antiseptic
When you are in an emergency situation (or you're just out of Neosporin), you can actually put honey on small cuts and scrapes. It acts as a natural antiseptic.
#3 Honey Soothes a Sore Throat
Next time you have a sore throat, try some warm water or herbal tea with honey.  Or, do like I do and just eat a spoonful straight.
#4 Honey Works as a Natural Cough Suppressant
Not only does honey soothe the throat, but it coats it and acts like a cough syrup.
#5 Try honey as a Moisturizer
Try putting honey on your lips or dry elbows and knees to moisturize dry skin.
What do you think?  Do you store honey?  I received some as a gift several years ago.  Since  don't use a lot of honey, it was stored out of site for a very long time.  When I finally pulled it out, the bottle was covered in dust and dirt, and the honey was crystallized and difficult to pour.
I cleaned off the bottle and scraped some into a squeeze bootle.  Then, I put it into the microwave for about thirty seconds.  Voila!  It was back to liquid honey that I am still using on fresh baked bread. Delicious.
*Jan (who's dad is a beekeeper) just added in the comments that the best way to "un-crystallize" honey is to put the jar in a dish of warm water. Microwaving honey kills some of the nutritional value.  Important to know!
So, next time I use some of my older honey, I'll skip the microwave, and do it Jan's way. Thanks, Jan!
Cox's Honey-Shelley Idaho Giveaway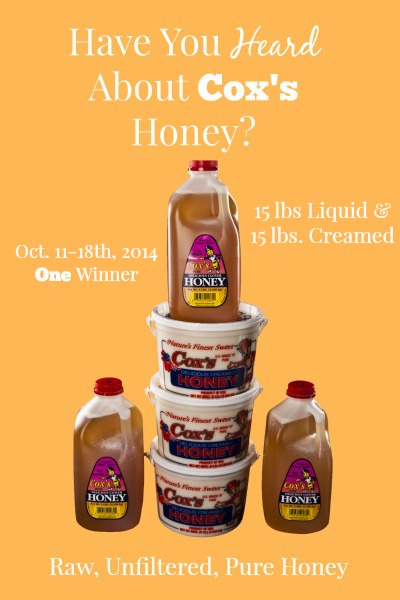 Are you a fan of honey? Then you don't want to miss this!  We're giving away an incredible amount of honey to one lucky reader! And it's not just any honey. Cox's Honey is pure, unfiltered, raw honey; so rest assured, you will be receiving a premium product of the highest quality.
Cox's Honey has graciously offered to sponsor this group giveaway. If you missed the opportunity to enter our last Cox's Honey giveaway, be sure to enter for your chance to win a total of 30 lbs. of honey: 15 lbs. of liquid honey, and 15 lbs. of creamed honey-perfect for the family that wants the best of both worlds.
You will want to check out Cox's Honey Website! Premium Honey!
This Cox's Honey Giveaway is open to any resident who is 18 years of age or older who lives in one of the 48 US Contiguous States. This giveaway starts on Saturday, Oct. 11th at 5:00 am (MDT) and ends on Saturday, Oct. 18th at 5:00 pm (MDT). The winner will be notified by email and will have 24 hours to respond. If we do not hear back from said winner in the designated time period of 24 hours we will choose another winner and they will have 24 hours to respond from the time the notification email is sent. Please check your SPAM email folders. Good luck to everyone! Let's be prepared for the unexpected!
a Rafflecopter giveaway
I'm so glad you stopped by today.  While you're here, check out some of my other ideas for emergency preparedness and food storage.  (Images below are linked.)