Welcome to the final day of the 12 Days of Christmas Holiday Event and Group Giveaway!
I hope you have all enjoyed the guests as much as I have.  Today is your last chance to enter the giveaway, but the Don't Eat Pete downloads will be available until December 31st.
Want to learn how to make this adorable Candy Cane Wall Art?  I'm happy to introduce Steph, from Crafting in the Rain!  I love her simple decorating ideas and kid-friendly projects.  I'm really excited about today's idea!  (I've already got a spot picked out in my house to try it.)
Hey everyone, I'm Steph from Crafting in the Rain, and I was so happy to be invited here by Heidi today.  My project for today actually started as an idea from my husband!  For a couple of years now I've had this wall of Ikea mirrors over our kitchen table.  I painted them brown and put squares of scrapbook paper in a few of them to make it a little more interesting.
When fall came this year, I painted some fake flowers with gold paint and put cream paper over each mirror.
My husband suggested candy canes in the center of each one, and I loved the idea, and felt like it was time to brighten everything up a bit too.
I took each brown frame and a painted it with a robin egg blue color.  It took a few coats to cover the dark brown underneath, but when everything dried I sanded down the edges to reveal the brown underneath.
Then I cut white cardstock to cover each mirror section and used hot glue to attach a mini candy cane in each one.  Cute and simple!  And I'm pretty sure that my kids are old enough now that none of these will go missing.  (Plus, the box I bought had 100 mini canes in it, so there are plenty to go around!)
I'd love to hear other candy cane decoration ideas too, since like I said, there are a few left over!  Thanks again for having me Heidi!
If you're looking for more Christmas ideas, come check out how to make a poinsettia pillow and candy cane brownie pops.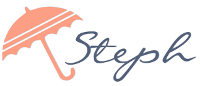 Thanks so much, Steph!  Have you all picked out you candy cane wall?  It would be fun to change up the "candy cane" element for each season.  I hope you'll all visit Steph at her site.
It's giveaway time!  Last day to enter!
Sorry.  This download has expired.
 The giveaway winner will be announced tomorrow!  All Don't Eat Pete free download links expire December 31, 2012.
While you're here, don't forget to check out Gluten Free Monday (open for new links every Monday-Friday) and One Creative Weekend (open for new links every Friday-Wednesday).
Thanks for stopping by!