These week, while browsing the web, I came across a comment stating that once Halloween was over, no one seemed to want to eat candy corn anymore.  She has obviously never met me!  For me, candy corn is an all-year treat.  For me, it's a diet breaker!  (Trust me.  It just ruined my diet last week!)  If you love candy corn as much as I do, check out these 25 projects inspired by the favorite Fall treat!
Thanks to everyone who has been linking to One Creative Weekend's Spooky Edition.   Here are some of my favorite "corny" projects from the party and pinterest.  My list almost became endless when I checked Pinterest, but I finally decided I'd better stop at 25!  I had to stop, but you don't.  Go ahead and add your own Candy Corn Project to this list by linking up at the end of the post.
 Infant Candy Corn Costume by Snippets of My Family, Faith, and Crafting.  (To see pics of adorable Selah modeling the costume, you'll have to visit the link!)
Candy Corn Dress from The Domesticated Princess (Same here.  Visit the link to see the adorable model!)
Found this Fuzzy Candy Corn Baby Costume on Pinterest, but try as I may, I can't find an original source.
 Paper Candy Corn Bunting with Free Pattern from . . . me!  (I hope you like it!)
Candy Corn Beadboard Garland or Fall from Red Hen Home
 Rustic Wooden Candy Corn Banner from Shaken Together Life
Recycled Candy Corn Bunting Banner fro Lizzie Jane Baby
Candy Corn Math with Printables from Hey Mommy, Chocolate Milk!
Fabric Medallion Candy Corn from Fun Home Things
 Fall Treat Pots from The Messy Roost  (I love the hand-drawn look of her images.)
 Candy Corn Pot from Just Paint It
 Boo Canvas by One Artsy Mama
Burlap and Buttons Candy Corn Project from Handmade by Hilani
 Candy Corn Applique Wall Decor Tutorial from Soul and Company  (Don't you think that applique would look cute on almost anything?  Pillow . . . burlap . . . )
Candy Corn Trick or Treat Bags from The Purl Bee
 Now for the edible projects!  Yum!
 Spiderweb (And Candy Corn!) Cookies from Lizy B Bakes
Candy Corn Cupcakes from Jodie Fitz
Candy Corn Sugar Cookies from Kathie Cooks (I still have plans to figure out how to make these cookies gluten free!)
 Candy Corn Marshmallow People from Knead to Cook
Candy Corn Cake from Bird On A Cake
Rotten Witches Teeth (Easy Gift Idea) from The Moody Fashionista
Candy Corn Pudding from Yellow Origami Bird
Candy Corn "Corn" from Lizzie Jane Baby
 Candy Corn Cupcakes from The Sugar Turntable
Candy Corn Waffles from Random Thoughts of a SUPERMOM
I'm envisioning a whole shelf devoted to candy corn next year!



Want to host your own linky party? Find out how by clicking the link to visit InLikz.
Next week, I'll be featuring some Monstrously Fun Projects!  If you haven't already, be sure to link your monster-inspired projects up at
OneCreativeWeekend:  Spooky Edition!
  (Open until October 31st)
Click here to see all the fantastic sites I like to link up with each week.
This roundup was featured at these awesome sites!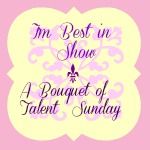 If you like this post, please please "like," "Pin," or "+1" so that others can join the fun! Thanks!