Happy Friday, everyone!  I don't know about you, but I'm ready for a rest from my crazy week.
I spent Monday-Wednesday attending Online Blogcon–an absolutely fantastic online blog conference hosted by Ashton (Something Swanky) and Dorothy (Crazy for Crust).
Not only was the conference full of exactly the kind of info I need to improve my site, but I made tons of new friends in the facebook group created for the event.  There sure are a lot of genuinely kind and talented people out there in blog land.  Here's a plug for next year's conference:  If you want to make connections with fellow bloggers and learn from the experts about building your site—GO!!!  (It's so much easier and cheaper than attending a conference away from home.)  Thank you so much Ashton and Dorothy!
While trying to keep up with the conference, I also applied and was accepted as a substitute teacher, created crazy hair for my three adorable daughter's, and basically just tried to keep my head above water!  (I know.  Those of you with no kids or only boys are wondering why creating crazy hair for three girls is such a big deal.  Trust me.  Tangles . . .  tears . . . do-overs . . . distractions–it can be exhausting!)  It's definitely weekend time!  Please indulge me as I share a few pics of my crazy-haired girls.  (Isn't spirit week fun?)
I am excited to announce my first-ever giveaway!
Yippee!  I've been wanted to start giveaways since week one.  Seventeen weeks later, it's finally time!
Have you heard of a little site called Pick Your Plum?  It's this fantastic place with one great deal–every day.  How does it work?  Every day at 7:00 a.m. (MST) Pick Your Plum posts their daily deal–Craft Supplies, Clothing, Personalized Items, Jewerly Kits, Hair Accessories, Home Decor, Fabric . . . . you get the idea–everything at a HUGE discount.  The products are available one day only–until they sell out, which they usually do.  You can sign up for their newsletter to get daily deal emails, or like them on Facebook to see the new deals as soon as they are posted.
Pick Your Plum sent me a Plum Box, and they want to send a box worth $25 to one of my lucky viewers, too!  Here's a sample of a few things that might (or might not) be in your box.  I hope you like surprises.  I know I do!
Read to enter?  Go for it . . . but don't forget to link up to One Creative Weekend while you are here!
*Because of shipping, contest is only open to US.  Sorry!  Good luck everyone.
A Rafflecopter Giveaway
The Rafflecopter may take a minute to load.
Do you have Fall posts to share?  Get them ready!  I'll be co-hosting a Thanksgiving Treats and Fall Fun Linky Party with lots of great blogs for the next two weeks.  The party opens this Friday!  Be sure to come back and link up.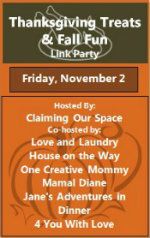 Now, the reason you are really here (or maybe the second reason!) . . . Let's get started with One Creative Weekend #17!  Don't forget to check out the features from last week's party!